20/10/10 19:43
Vital Flight volunteers take sick, needy to must- get-to places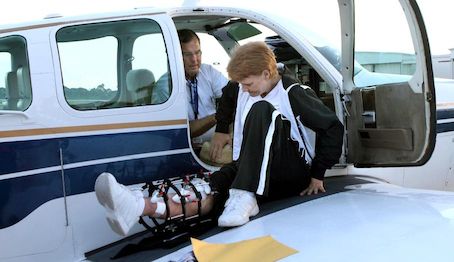 By
Lona O'Connor
, Palm Beach Post Staff Writer. Photos by Taylor Jones, Palm Beach Post.

Kate Powers was trying to make herself as comfortable as possible in her plane seat, not an easy task, with her right leg immobilized by four big metal rings. She had just had surgery and was in pain.

A woman sitting nearby saw her plight and traded seats so Powers, 51, could stretch out. She also turned out to be a Good Samaritan in a much larger sense. She put Powers in touch with Tom Powers (no relation), head of Vital Flight, a new flight service for people in need.

"That was a very fateful flight," said Powers of Port St. Lucie. "She said, 'This is not right. We have to take care of this.' They've been absolutely wonderful, they all have."

Vital Flight started three months ago and consists of pilots who volunteer their time, planes and fuel.

Once Kate Powers' need was established, Tom Powers got to work. His leg of the trip started Wednesday in Stuart and ended at Charleston, S.C. Weather stalled her there overnight, but when it clears, a second volunteer pilot will take Kate Powers to Norfolk, Va., and a third flies her to New York.

"What they do is so amazing," said Kate Powers. "It makes a difference in a lot of people's lives."

For the past several months, Kate Powers has been shuttling back and forth every three weeks from her home in Martin County to New York, on whatever bargain flight she could find.

She is being prepared for surgery Monday that could save her leg from amputation.

After knee surgery three years ago, she developed osteomyelitis, a stubborn infection that was killing bone tissue in her leg.

After treating the infection with intravenous antibiotics for more than a year with no success, doctors told Powers her only remaining option was amputation.

But Powers tracked down a clinic in New York that does exactly the kind of bone work she needed. Powers is unable to work and though her surgery will be mostly covered by insurance, she has very little spare change for frequent flights to New York.

Though doctors are making no miraculous claims, Powers' prognosis is good. Already, since Jan. 22, doctors have been able to regrow six centimeters of bone.

Though many of Vital Flight's missions are medical, its pilots will also take needy people on non-medical trips.

On Jan. 15, at the Boca Raton Airport, Vital Flight is sponsoring a kids' day that will include tethered hot-air balloon rides, short plane flights and earthbound activities such as face painting and food.

At the group's first meeting at the Boca Raton Public Library several weeks ago, 40 people showed up, some pilots, some willing to act as "earth angels," or ground support.

"Our business cards say, 'Our mission is helping, our passion is flying,'" said Vital Flight pilot Jonathan Steiner.



Originally posted on
Palm Beach Post
website, 10/20/10